Law Enforcement Learns Canine First Aid
Tampa, Fla. – Law enforcement have used police dogs, or K9 officers, and search-and-rescue dogs for centuries. These heroes perform a range of duties and services that many humans simply cannot. In major cities around the U.S., K9 officers are used to sniff out illegal materials or bombs, track criminals, search buildings, and find missing persons.
While professional handlers of K9 officers and search-and-rescue dogs are trained in first aid for people, their knowledge of the K9 anatomy is often limited. Knowing what to look for can identify issues before they become serious, or even save the dog's life. 
That's why Dr. John Gicking, board certified veterinarian in emergency and critical care at BluePearl Veterinary Partners, Tampa, Fla., helped develop Frankie's Friends' K9 Heroes First Aid Course.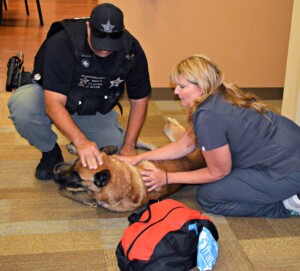 "The goal of the course is to give the handlers some basics in assessment of their partner, have some awareness of common dangers they may encounter in the field, and lastly learn some basic techniques and first aid." Dr. Gicking explained. 
A Veterinarian Shares Canine First Aid Expertise
The two-hour lecture, which aims to train professional handlers in first aid and preventative care for their dogs, covers everything from identifying a snake bite to heat stroke prevention. K9 handlers are also shown how to check vitals and basic restraint, in the event they have to apply aid out on the field.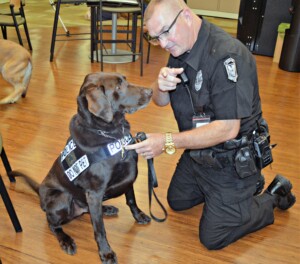 On Tuesday, June 25, K9 handlers from Hillsborough County Sheriff's Office, MacDill Air Force Military, and the Tampa Airport Police visited BluePearl, Tampa, Fla., to take the comprehensive, hands on training course. Each attending officer received a free first aid supplies bag that included eye wash, bandage materials, a thermometer, eye lubricant, and more.
Made Possible By Frankie's Friends
"It's our honor to provide such a vital resource for these every day heroes," said Danielle Martin, executive director at Frankie's Friends. "K9 officers serve on the front lines every day keeping us safe. Frankie's Friends wants to pay it forward by doing our part to keep them safe in the line of duty."
Frankie's Friends plans to continue holding the free training for law enforcement once a month. For more information on Frankie's Friends' K9 Heroes First Aid Course, please visit: https://www.frankiesfriends.org/.