BluePearl Pet Hospital, specialty veterinarian in Cedar Rapids, Iowa.
BluePearl Pet Hospital functions as an extension of your family veterinary practice. When your primary vet's office is closed or if your pet needs specialized care, our highly trained emergency and specialty veterinarians are available.
We take a collaborative approach to veterinary medicine – meaning our specialty clinicians share knowledge and expertise to develop comprehensive treatment plans for pets. The following specialty services are available at our pet hospital: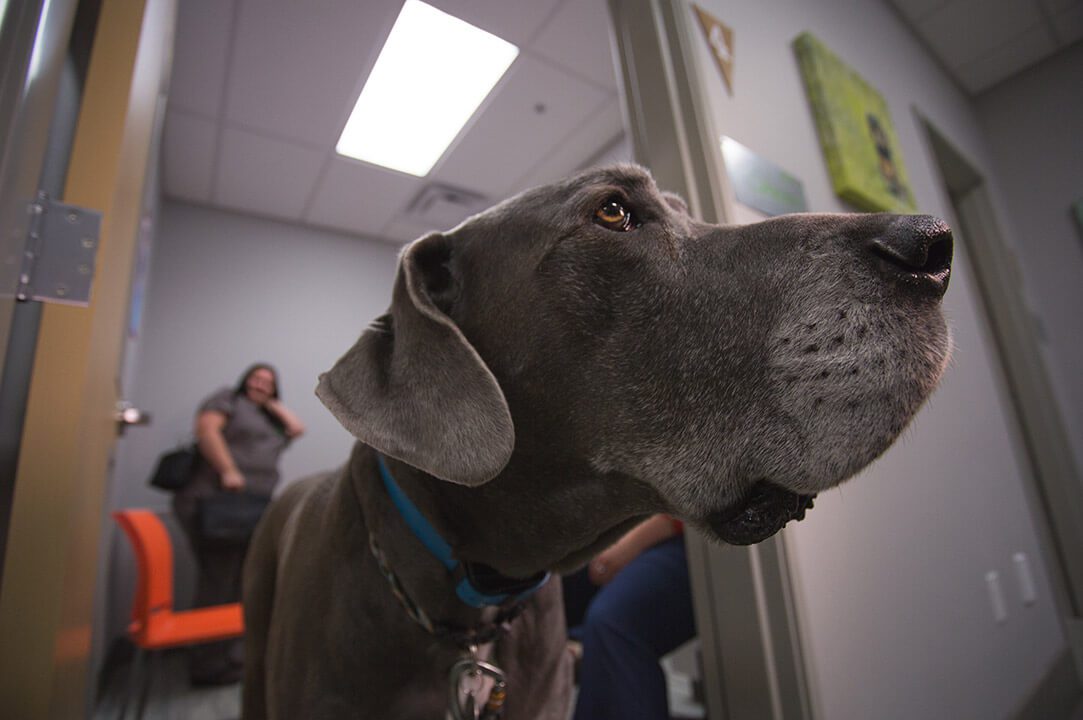 Emergency & Critical Care
A pet emergency can happen at any time, and our experienced emergency veterinarians are on duty around the clock to deliver compassionate care. Our emergency and critical care team members share a passion for handling even the most urgent cases with dedication, skill and understanding.
Our facility is equipped with sophisticated diagnostic imaging modalities and treatment technology specifically designed to diagnose, treat and monitor critically ill or injured pets.
At BluePearl in Cedar Rapids, we offer the following emergency vet services:
Urgent diagnostic capabilities
24-hour emergency surgery services
Overnight monitoring when your primary veterinarian's office is closed
Intensive care hospitalization
Oxygen and ventilation therapy
Transfusion therapy
Critical care monitoring

Diagnostic Imaging
An accurate diagnosis is essential to develop the most effective treatment plan. We employ several advanced diagnostic tools, including:
Digital radiography
Ultrasound
Electrodiagnostic studies
Fluoroscopy
Myelography
The first step in caring for a sick pet is a precise diagnosis. With these advanced tools at the ready, we are uniquely equipped to determine the underlying condition. Early detection can mean a better outcome.

Dermatology
Our dermatology department's mission is to improve the quality of life for pets with skin disease. We understand the human-animal bond you share with your pet, and your pet's comfort and overall wellbeing are our top priorities. By forming a long-term relationship with you and your pet, we can best address and manage the specific dermatological health issue that is affecting your pet's daily life.
From the initial consultation to ongoing care, we communicate closely with you and your pet's primary veterinarian. Common skin conditions we treat include:
Allergic skin diseases and allergic asthma
Autoimmune & immune-mediated skin diseases
Contact, vaccine and drug reactions
Hypersensitivity disorders
Congenital skin disorders
Endocrine or hormonal diseases
Infection skin disease
Skin cancer

Internal Medicine
If your pet is facing a complex or challenging illness, you may be referred to the internal medicine department at BluePearl Cedar Rapids. We use advanced diagnostic imaging technology to pinpoint and understand your pet's specific condition. Working closely with you and your pet's primary veterinarian, we then develop a custom treatment plan to best promote your pet's quality of life. Our expert internal medicine clinicians offer the following services:
Ultrasound
Endoscopy/colonoscopy/rhinoscopy/bronchoscopy/cystoscopy
Echocardiography
Chemotherapy
Bone marrow aspirates
CSF taps
Diabetic regulation
Treatment of endocrine disorders, infectious diseases, immune-mediated diseases, etc.

Surgery
Our surgery clinicians are available by referral from your pet's primary veterinarian and our emergency department, and they are also on call nights, weekends and holidays for critical patients. They are experts in many areas of veterinary surgery, including orthopedic, soft tissue, thoracic and more. Surgical services offered by our expert surgical team include:
Orthopedic: TPO, FHO, open reduction of hip luxations, TPLO, lateral suture, MPL, fracture repair (plate, plate/rod, external skeletal fixator, interlocking nail)
Soft tissue: Thoracotomy, abdominal surgery, PSS, head and neck, wound reconstruction, urogenital, gastrointestinal
Neurosurgery: Myelography, CSF analysis, ventral slot, dorsal laminectomy, hemilaminectomy, L-S stabilization, fracture repair

Veterinary Blood Bank
Veterinary blood donor programs collect and store blood to better support pets in need. It's our goal to provide access to life-saving blood products for pets, and your pet may be able to help. Contact us to learn more about the requirements and whether your pet is eligible to help save lives.