Veterinary neurology and neurosurgery services.
Our team specializes in diagnosing and treating cats and dogs with neurologic disorders of the brain, spinal cord and peripheral nervous system. We offer a range of neurology services for pets in the Farmington community and areas west of Detroit, including consultations, diagnostic procedures and tailored medical and surgical treatments.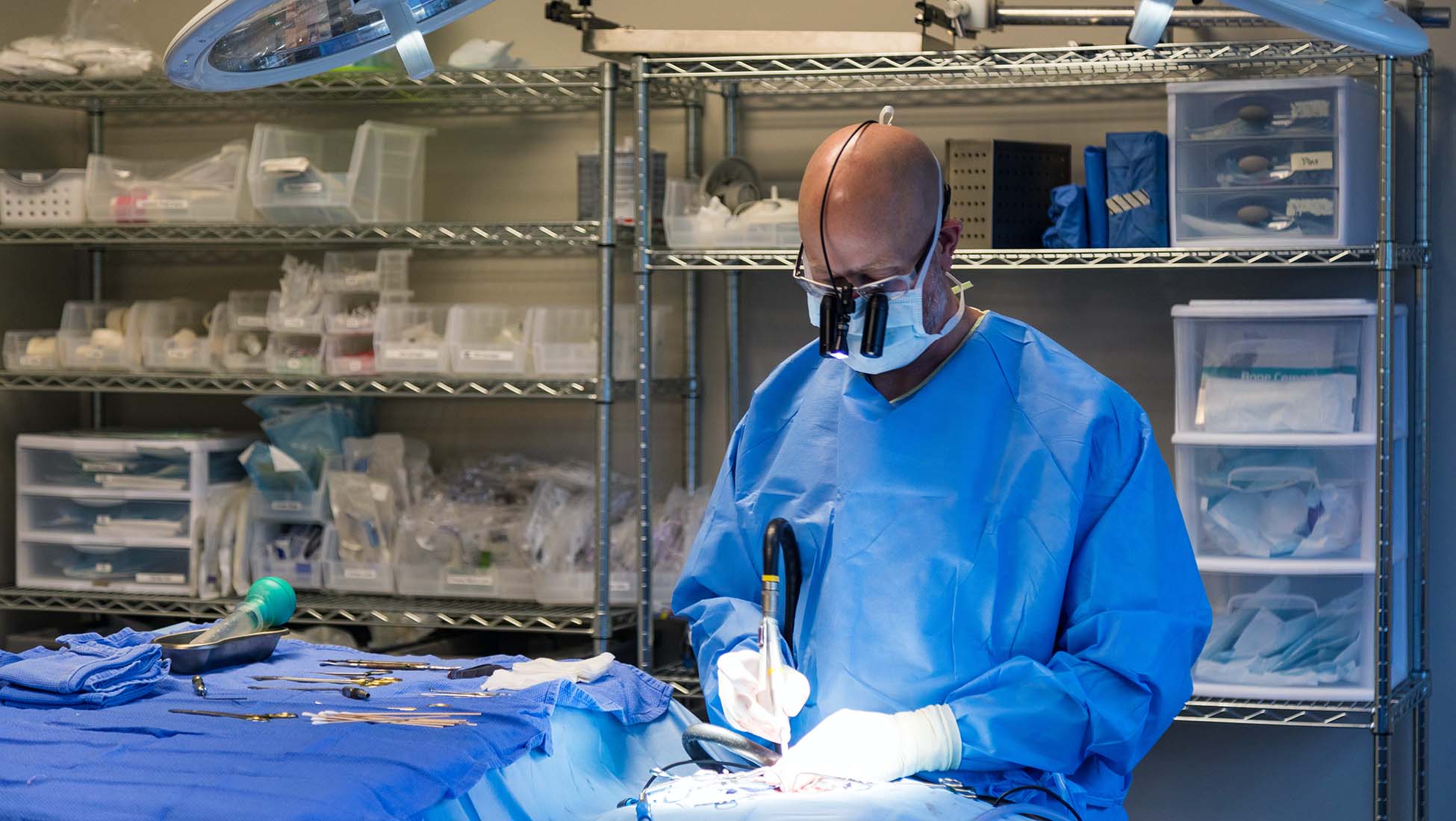 Consultations.
During consultations, we take the time to discuss your pet's condition, listen to your concerns and provide treatment options customized to support your pet's health. This involves:
Patient history: We review your pet's medical records and gather a comprehensive medical history to better understand their condition.
Neurologic exam: A doctor will examine your pet, observing their posture, gait, reflexes and other indicators of the neurological system, and discuss the findings with you.

Diagnostics.
Physical and neurological exams can answer many questions, but advanced imaging is often necessary to definitively diagnose neurological disorders. Following the exam, our doctors will discuss which diagnostics are needed.
We only recommend necessary tests based on your pet's specific needs.
Our hospital is equipped with state-of-the-art diagnostic equipment, including:
Open MRI
CT (computed tomography)
Myelography
Spinal fluid collection
Digital radiography (including fluoroscopy)
Electrodiagnostics
In-house laboratory services
Making the diagnostic process as stress-free as possible for patients is a priority for us. The open MRI and CT machines are designed for animals' safety, comfort and complete anesthesia monitoring.

Treatments.
Our doctors will take the time to discuss all treatment options to help you make the best decision for you and your pet.
Our doctors focus not only on what treatments are available for your pet but on providing you with the information to decide if the treatment is something you feel is in your pet's best interest. Ultimately, it comes down to your pet's quality of life, and we want you to feel comfortable making these decisions.
We tailor treatment plans to your pet's unique condition, considering both medical and surgical interventions when appropriate. Our comprehensive surgical suite allows us to perform necessary neurosurgical procedures. 24-hour medical and surgical care ensures our hospitalized patients receive constant monitoring and attention.
Our neurology team treats many conditions, including:
Intervertebral disk disease (IVDD)
Seizure disorders
Vestibular disease
Encephalitis
Hydrocephalus
Meningitis
Chiari-like malformations
Spinal fractures
Head trauma
Brain and spinal tumors
Cervical stenosis (wobbler's disease)

Frequently asked questions.
The night before your visit, please refrain from feeding your pet after midnight. They can have small amounts of water up until four hours priors to the exam. If your pet receives medication, please contact us to discuss whether they should be given those medications the morning of the appointment.
Please bring the following to the first appointment:
Your pet's blood work, x-rays or other test results from the last year
Records from all veterinarians involved in your pet's care
Any prescription and non-prescription medications your pet is currently taking
Your pet's special diet, if applicable
Before your first appointment, please complete and return any paperwork we send you.
Upon arrival, you'll be checked in and taken to an exam room where you and your pet can wait comfortably. Shortly after, our medical team will conduct your pet's exam, discuss findings and review a treatment plan.
If your pet has difficulty walking, let us know; we'll happily help assist them inside and get them comfortable on one of our cushioned beds.
Please note: Occasionally, slight delays in the schedule may occur due to emergencies with other pets, and we appreciate your patience.
A consultation typically lasts around 60 minutes, including examination and discussion. Pre-anesthetic testing, MRI/CT and recovery from anesthesia can take most of the day. If applicable, we recommend leaving your pet in the caring hands of our team for the day while we keep you updated. Phone calls to check on your pet are always welcome.
We aim to do all tests on the same day. In some cases, tests may be scheduled for the following day or later.
Your pet's safety is of paramount importance. General anesthesia is used during MRI and CT scans to achieve the best possible images while keeping your pet safe. To ensure their safety, we closely monitor your pet's vitals throughout the procedure.
Just like people, some pets have anxiety about diagnostic testing. General anesthesia can keep them calm and comfortable during the process.
An MRI is a painless diagnostic procedure. Using a strong magnet, MRI devices provide a more comprehensive picture of the inside of your pet's body. Patients must remain completely still for the entire MRI, so general anesthesia is required to achieve the best images.
During an MRI, your pet will lie on a soft bed with blankets to keep them warm, and they'll be monitored closely throughout the procedure.
An MRI or CT scan of the brain or spine typically takes one to two hours. Your pet's neurologist can provide a more accurate duration based on their size and case.
If surgery is not needed, most pets can go home after completing their tests and recovering from anesthesia.
If your pet needs to stay the night, they'll be given lots of love and care, as well as close monitoring, by our overnight team.
Immediate surgery may be advised if your pet is paralyzed or unable to walk. If your pet is stable, surgery may be scheduled for a later date.
After surgery, your pet will stay with us for a few days so we can monitor and give them post-operative care. You'll receive daily updates from a doctor, and we always welcome phone calls to check on your pet's recovery from surgery.
A neurologist will review detailed post-operative care instructions and answer any questions you have before your pet goes home. This may include instructions on bladder expression, carrying or slinging your pet, monitoring the incision and a review of all medications. Your primary care veterinarian will also receive this information for a seamless transition of care.
We encourage you to reach out if any questions or concerns arise – we're here to help.