Specialty Services at BluePearl Pet Hospital in Overland Park, KS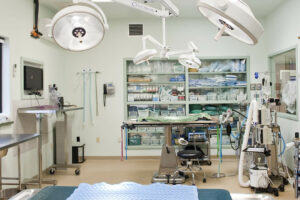 We offer specialty and emergency services for pets in Kansas City and the surrounding communities. Our expert clinicians are available when your pet's primary veterinarian's office is closed or if your pet needs specialty care.
Working collaboratively in an advanced pet hospital, our specialty clinicians are dedicated to delivering top-quality, compassionate care for your pet. We proudly offer the following specialty vet services:
24/7 Emergency Medicine
We are always available to provide remarkable care for pets with medical emergencies.
Critical Care
Overseeing our hospital's ICU, our critical care team cares for the most critically ill and injured patients.
Diagnostic Imaging
Advanced diagnostic technologies like x-rays, CT scans, MRI and ultrasounds allow our doctors to determine the best treatment for your pet and verify progress.
Integrative Medicine
Integrative medicine combines traditional Western treatments with ancient Eastern practices to effectively alleviate pets' pain and promote healing.
Internal Medicine
Our internal medicine team specializes in treating complex diseases and improving quality of life for pets affected by these conditions. 
Interventional Radiology
Interventional radiology (IR) is a form of advanced imaging that allows our doctors to perform minimally invasive procedures while viewing the moving parts in a pet's body in real-time.
Neurology & Neurosurgery
Our neurology team uses advanced imaging technologies, cutting-edge medical therapies and surgical procedures to diagnose neurological disorders and treat patients with veterinary neurological conditions that affect the brain, spinal cord and nerves.
Oncology
Our oncology department develops custom treatment plans for pets affected by cancer with the goal of promoting overall wellbeing.
Radioiodine I-131
This special service is an innovative treatment used to cure hyperthyroidism in cats.
Surgery
Our surgery team is highly trained in performing a wide variety of procedures on pets in a monitored surgical suite.
Veterinary Blood Bank
Like in human medicine, some veterinary patients need blood transfusions, which are only possible with blood donations from healthy pets. Our team is skilled in drawing blood donations in a quick and painless manner so all cat and dog donors can safely help save lives.