A Rough Start for Mika
Mika had a rough start, as we almost lost her within two weeks of bringing her home. She was vomiting, having diarrhea, refusing to drink and didn't have enough energy to play, jump up or bite, so we knew something was very wrong.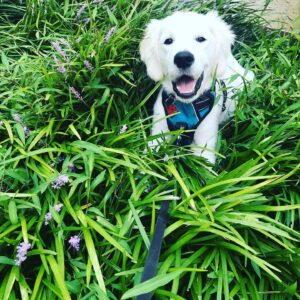 Our normal vet was closed for the day, so we headed to BluePearl in Downtown NYC, our local emergency vet, who gave her fluids and took x-rays to rule out intussusception and a blockage. But the x-ray was inconclusive, so they recommended we follow up with our normal vet in the morning.
After a visit to our normal vet, labs were drawn and we were sent home with more medicine. The next morning, we got a call from our vet that Mika's albumin and iron levels came back very low and we needed to bring her to the animal hospital immediately.
Desperately Searching for a Diagnosis
We headed back to BluePearl to drop off our baby. They gave Mika IV fluids and medicine to help with nausea, she had a parvovirus test that came back negative, and stool studies were pending, so still no diagnosis.
Overnight she didn't improve like they thought she would after re-hydration. In fact, she was even worse than the day prior, so the vet decided to do another parvovirus test. This time, it was positive, despite having a negative parvo test one day earlier and her first round of vaccines (including parvo). We followed all the rules of not taking her outside for potty breaks or socializing her with other dogs, but she still got it. The vets assured us they would do everything they could to save Mika, but nothing was guaranteed.
We took turns calling for check-ins with the vets, and the first few days were filled with a lot of bad news and little improvement. She had a feeding tube placed for nutrition but would vomit everything they put through it. She then had a central line placed for IV fluids, lab draws and medications, but was still so weak she couldn't even stand up or bark.
The staff would send us pictures and videos because we couldn't visit her due to covid. We had daily discussions about the financial burden of the care she required versus the hope she would pull through. We had already bonded with Mika and decided nothing would stop us from giving her the best chance of survival.
Mika's Speedy Recovery
Many prayers and many tears later, we started getting better news from the vets. On day five, she vomited less, held down some food, started to stand up and went for a walk around the hospital. After that, things were trending upwards, and within a matter of 48 hours, and after seven long days of ICU care at BluePearl, our baby was discharged.
Thankfully she is now completely healthy, way too spoiled and has been living her best life ever since. So, just a friendly reminder please pick up after your dogs, vaccinate according to schedule and do not let puppies socialize until recommended by your vet to prevent the puppies whose immune systems are immature and are most vulnerable to parvo from contracting the virus!