Rushing to BluePearl St. Cloud
My cat Orange was admitted to BluePearl in St. Cloud on August 5th for a gunshot wound which went completely through him. I didn't think he was going to survive, but after getting the X-ray back, we saw how the bullet missed all his organs.
Back on His Feet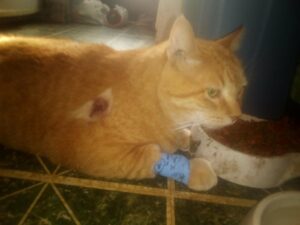 It's now Friday the 7th and after only two days, Orange has made a great recovery. He is walking around the house he even jumped a barrier that we had set up to rest in favorite spot. Thanks to the vets for doing a great job and saving our little Orange. My kids thank you from their hearts.