BluePearl veterinarians help K9 Officer Indi make a full recovery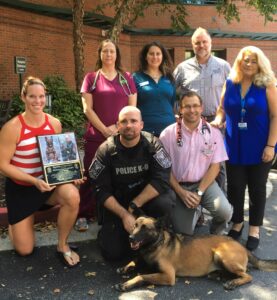 Sandy Springs, Ga.—Associates at BluePearl Specialty and Emergency Pet Hospital in Sandy Springs, Ga., have been presented with an honorary plaque from the DeKalb Police Department for exceptional services provided to K9 Officer Indi and his handler, Officer Norman Larsen. In 2018, Indi was shot point-blank while searching for a gunman accused of killing Officer Edgar Flores, who was fatally shot after conducting a traffic stop.
The bullet struck Indi above his right ear, severely injuring his right eye. Officer Larsen immediately rushed Indi to BluePearl in Sandy Springs, but was faced with rush hour traffic. The Sandy Springs Police Department was alerted of Officer Larsen's emergency and helped by holding traffic at intersections and clearing roadways.
Expert Emergency and Critical Care
Once admitted to BluePearl, Indi was assessed by the ER team and Lori MacDougall, DVM, MVSc, DACVS-SA, assisted in his stabilization and pain control. That night, officers from various departments joined Indi and Officer Larsen at BluePearl and held a vigil. 
The next morning, Jennifer Pittman, DVM, DACVECC, Caroline Monk, DVM, DACVO, and Dr. MacDougall reexamined Indi. Dr. Monk found that not only was Indi's eye severely damaged, but it was also blind.
Once Indi was stable enough to undergo anesthesia, Dr. MacDougall performed a CT scan and determined that he had in fact been one incredibly lucky dog.
"The bullet managed to avoid Indi's skull entirely, instead going through muscle surrounding the skull to exit the eye. However, the eye was not salvageable, so I was called in to remove it," explained Dr. Monk. "Ultimately, the surgery was a success and Indi showed remarkable fortitude. By the following morning, Indi was up and active and ready to get back to work."
A Quick Recovery 
On December 15, Indi was released to recover at home with Officer Larsen. When leaving the hospital, the pair was met by an overwhelming line of police cars, officers and K9 handlers from Sandy Springs, Atlanta, Doraville, Brookhaven, East Point, Roswell, and Cobb County.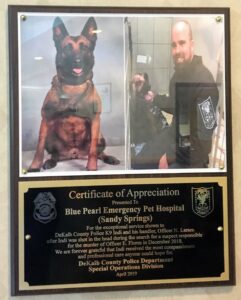 In a heartfelt Instagram post, the DeKalb Police Department stated, "Please help us express our sincere gratitude to the wonderful staff at the BluePearl Animal Hospital. The amazing compassion and unmatched care he received following his injuries are the single reason Indi went home today."
Thanks to the expert aid of Drs. Pittman, Monk, and MacDougall and unparalleled support of the entire Sandy Springs veterinary team, Indi was able to make a full recovery.