Feathers, Fins and Fur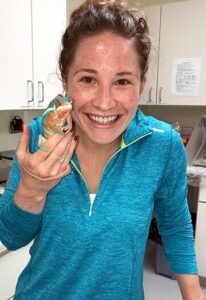 We are excited to welcome Michelle Borsdorf (Whitehead), DVM, DACZM to our BluePearl team in Chesterfield, MO. To help you get to know our specialist a little better, we asked her a few questions about her career and interests.
How do you collaborate with the primary care veterinarian?
My goal is to empower and complement the primary veterinarian community so that we can work together to provide the best possible care for every exotic pet.
What part of the job are you passionate about?
Every patient is unique and presents its own challenge. Treatment often requires out-of-the-box thinking, extrapolation of what we know from other species or even humans for diagnosis, disease pathophysiology and treatment.
What was your most difficult and/or memorable case?
Zippy, an adult presumed male red-footed tortoise was presented as a referral for respiratory symptoms after months of treatment for pneumonia with no response. Tortoises can be challenging to identify the extent and cause of respiratory disease since they have a completely enclosed and shielded body cavity with a domed carapace (upper shell) and plastron (lower shell). They also do not have a diaphragm. This means that respiratory symptoms do not always indicate lung disease, but rather can be due to disease within the body cavity that is secondarily impacting the sponge-like lungs that sit along the carapace.
Unfortunately, the radiographs were inconclusive, so advanced imaging with a CT scan was performed.
Externally, Zippy had male characteristics with a concave plastron, long tail, and wide anal scute angle, however, the CT proved differently. Zippy was diagnosed as a FEMALE with pre-ovulatory follicular stasis, hepatic lipidosis (fatty liver disease), and coelomitis (inflammation in her body cavity). The large size of the ovarian follicles and her large liver were taking up so much space in her coelom (body cavity), they compressed her lungs and caused the respiratory signs. This was not even on her differential list as a potential cause of her symptoms since we thought Zippy was a boy!
Zippy was spayed using a pre-femoral approach with endoscopy assistance to avoid cutting into her plastron to access to her coelom. This is a very challenging procedure but is minimally invasive with much quicker healing potential. As part of her management, she required an esophageal feeding tube, which was replaced almost monthly to help provide nutritional support and for ease of medication delivery.
Unfortunately, Zippy did not recover from the fatty liver disease and coelomitis. After a long fight, she was humanely euthanized. Zippy had the most dedicated care and reminds us never to make assumptions when you don't have all the information. This case highlights the benefit of advanced diagnostic imaging (CT scan) in large tortoises for full body assessment and the use of minimally invasive endoscopy to assist with surgical procedures.
What are your interests outside of work, and do you have pets?
Anything outdoors (hiking, cycling, running, boating, fishing, camping), breweries and wineries, sports (hockey – Canucks fan through and through. I'm Canadian; it's in my blood), country music, dancing two-step or line dancing. I have a Labrador retriever named Scoter (after the Northern diving duck) who at six months old was already 60 pounds!