Our Specialties and Services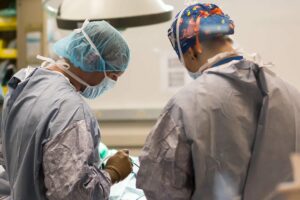 We focus exclusively on emergency treatment and advanced specialty veterinary care. (For annual vaccines and wellness care, please see your primary care veterinarian.)
Emergency Medicine
If you believe your pet is sick, hurt or in distress, we're here to provide expert care. Our trained emergency clinicians are prepared to diagnose and treat urgent cases, including severely injured or critically ill pets. Common emergency cases we see include:
Animal attacks
Bleeding
Collapse episodes
Difficulty breathing
Difficulty urinating
Hit-by-car accidents
Ingestion of medications, poisons or objects
Seizure
Severe diarrhea
Unresponsiveness
Vomiting
Through every step of your pet's emergency care experience, we keep you and your pet's primary veterinarian informed and involved.
Diagnostic Imaging
Our radiology service performs many non-invasive and minimally invasive diagnostic procedures. These services allow the specialty clinicians unique, non-invasive opportunities for evaluating various diseases.
Internal Medicine
Veterinary internists are trained to take care of patients who can't tell them what's wrong. By using the pet's history, clinical signs, lab results, imaging studies and other testing, our internal medicine specialists can diagnose severe, chronic illnesses or symptoms that appear suddenly.
Interventional Radiology
Interventional radiology (IR) is a form of advanced imaging that allows our doctors to perform minimally invasive procedures while viewing the moving parts in a pet's body in real-time.
Veterinary Oncology in San Francisco Peninsula, Daly City and San Mateo County
A pet's cancer diagnosis can be heartbreaking, but the good news is there are veterinarians who specialize in treating cancer through compassionate, individualized care. Pet oncologists are trained in advanced diagnostics to pinpoint the problem methods of cancer treatment such as chemotherapy.
At BluePearl, our oncology team delivers compassionate care specially designed for treating cancer in pets and giving them the best quality of life possible. During your pet's treatment, you can expect our veterinary oncology team to:
Take time to listen and answer all your questions and concerns
Create a treatment plan tailored to you and your pet's needs
Work within your schedule for therapy delivery
Provide regular updates with your referring family veterinarian
By helping pet owners understand their pet's disease and by offering appropriate educational tools, we all work together to improve and extend each pet's quality of life.
Whether your pet has been diagnosed or they're suspected of having cancer, a pet cancer specialist in the Bay area can help develop a treatment plan to give your pet the best possible quality of life.
Does My Pet Need to See a Cancer Specialist?
Whether your pet has been diagnosed or they're suspected of having cancer, a pet cancer specialist in the Bay area can help develop a treatment plan to give your pet the best possible quality of life.
Many family veterinarians in the greater San Francisco and San Mateo county areas send pet owners to our specialists if they suspect or have diagnosed a pet with cancer because they trust our expertise and dedication to giving your pet the best care.
If you're unsure whether you need to visit a pet oncologist, consider common symptoms of cancer in pets. Some of the early warning signs of pet cancer include:
Abdominal swelling
Persistent sores
Abnormal skin growths (tumors)
Inexplicable weight loss
Loss of appetite
Unusual lameness or stiffness
Difficulty breathing, urinating or defecating
While these symptoms aren't guaranteed that your pet has cancer, you should visit a veterinarian if you notice any of these signs.
What Conditions Does a Pet Oncologist Treat?
At BluePearl, our oncology team dedicates their time to treating pets in the San Francisco, San Mateo and Daly City areas with cancerous diseases like:
Bone cancer
Liver and spleen cancer
Lymph system cancers
Mammary (breast) cancer
Skin cancer
Soft-tissue cancer
Thyroid cancers
Tumors
Urinary system cancer
If you live in the San Francisco peninsula, trust our veterinary oncology team to provide advanced, cutting-edge cancer treatment delivered with kindness.
Meet Dr. Kathleen Tsimbas, BVSc, Veterinary Oncologist
Dr. Kathleen Tsimbas is a board-certified veterinary oncologist at our Daly City, CA pet hospital. Passionate about providing excellent care to her patients, Dr. Tsimbas' professional interests include treating round cell neoplasms (tumors), maintaining patient quality of life and geriatric patient care because treatment for older pets is often complex and multidisciplinary.
Dr. Tsimbas' pursued her passion for helping animals by earning her Bachelor of Veterinary Science from the University of Sydney in Australia. She then completed two internships – one in small animal medicine & surgery and the other in medical oncology – and a residency in medical oncology for animals at the University of Wisconsin. Now, Dr. Tsimbas leads the oncology service at BluePearl in Daly City, and sees patients from all over the San Francisco Bay Area and San Mateo county.
Veterinary Blood Blank
Veterinary blood donor programs collect and store blood to better support pets in need. It's our goal to provide access to life-saving blood products for pets, and your pet may be able to help. Contact us to learn more about requirements and whether your pet is eligible to help save lives.
Compassionate Treatment
Our team respects the close bond between pet owners and their pets and treats each with dignity, compassion and kindness.