BluePearl Pet Hospital – serving Irvine and Los Angeles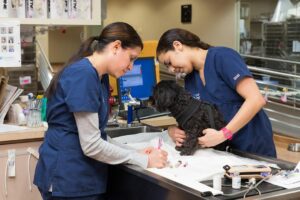 Our emergency vet and pet hospital is located in Irvine, California just 40 miles south of Los Angeles on I-5. We are close to Huntington and Newport Beach and are open all day, every day to provide the care your pet needs. 
Specialty and Emergency Medicine in Irvine, California
When you have a pet emergency, seconds count. We want you to know, we're ready. If your pet has a condition that requires a specialist's expertise, we're ready for that too. Our experienced veterinarians, vet technicians and support staff work closely together to provide the comprehensive, compassionate care your pet needs and deserves.
Specialty Care: Our veterinary specialists work directly with your primary care vet to understand your pet's condition and develop the appropriate treatment plan. Visits to our specialists are usually by referral from your primary care vet and by appointment. Learn more about veterinary specialists.
About BluePearl Pet Hospital in Irvine, CA
At our pet hospital in Irvine, we seek to set an example in the field of veterinary medicine and aim to provide the physical and emotional care that your pet deserves.
Our specialists' expert knowledge is reinforced by the latest technological equipment in our field, allowing us to provide unsurpassed medical support for our patients.
BluePearl Pet Hospital in Irvine, CA was formerly known as Southern California Veterinary Specialty Hospital.