Specialty vet services in Atlanta, GA.
When your pet needs referral-based specialty care, you can trust the experienced veterinary staff at Atlanta Veterinary Specialists. We focus exclusively on advanced specialty care and work closely with your family veterinarian to create a comprehensive care plan tailored to your pet's needs.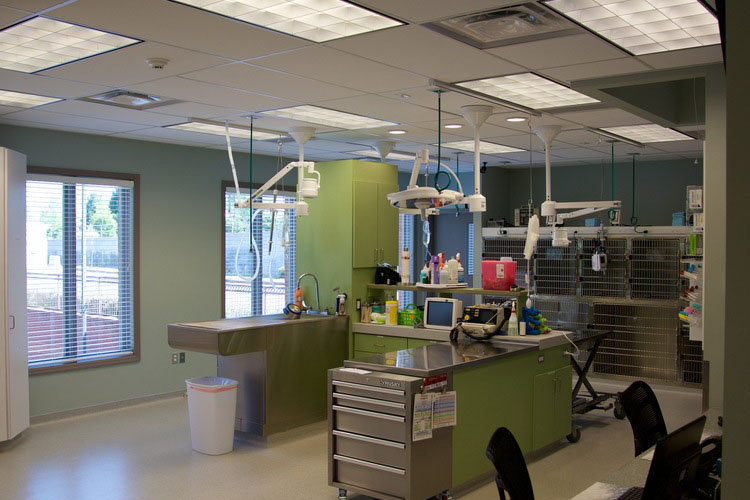 Dermatology
Atlanta Veterinary Specialists offers a full range of services to treat even the most challenging veterinary dermatology cases. Every day our skilled dermatology team puts their knowledge, experience and love for animals to work so your pet can receive the most advanced treatment options.
If your pet is experiencing any of the following symptoms, they may benefit from seeing a veterinary dermatologist.
Scratching and licking
Hot spots and hair loss
Chewing and biting
Red, irritated skin
Red, runny eyes
Crusting
Waking up at night to scratch or chew
If you notice these signs and symptoms, ask your veterinarian about a referral to our veterinary dermatologist. Our compassionate dermatology team helps pets find relief from conditions such as:
Allergies
Bacterial or fungal infections
Parasites
Hormonal problems
Skin cancer
Our Dermatology Services for Pets
Our hospital offers the following dermatology services to diagnose, treat and manage dermatological conditions in pets:
Allergy testing to detect inhalant and food allergies.
Laser surgery for pinpoint accuracy when treating tumors and skin lesions. Laser surgery allows us to use unconscious sedation instead of placing patients under anesthesia.
Video otoscopy to record digital video and camera images of your pet's ears using a high-resolution otoscopic camera. This allows us to see deep into the ear canal and identify areas of concern, perform deep ear canal cleansing flushes and see debris being removed from the ears using a state-of-the-art ear cleaning system.
Preparing for Your Pet's Dermatology Appointment
In order to properly assess your pet, we ask that you please:
Avoid bathing your pet one week before your appointment.
Stop giving your pet steroids or antihistamines (oral or topical) two weeks before your appointment. (This is preferred but not required. If you have any questions, please don't hesitate to call us.)

Feline Radiotherapy – Radioiodine I-131 Treatment
If your cat is experiencing symptoms like behavioral changes, weight loss, fever, rapid heartbeat, excessive shedding, or diarrhea, they may have hyperthyroidism.
Similar to humans, cats have a thyroid gland that regulates their metabolism. If the gland develops a tumor (almost all are non-cancerous), hyperthyroidism can occur. Untreated, this condition can be fatal.
Our radiotherapy service is provided by Feline Radiotherapy Treatment Center. Please call 770.407.3000 for appointments and scheduling.

Neurology
Our neurology team uses advanced imaging technologies, cutting-edge medical therapies and surgical procedures to diagnose and treat patients with neurological disorders that affect the brain, spinal cord and nerves.
Some of the most common neurological disorders we see include:
Epilepsy and other seizure disorders
Brain and spinal cord trauma
Disc herniation and other lumbosacral disorders
Brain tumors
Neuromuscular disease
Encephalitis