BluePearl Pet Hospital – Serving Northland and Kansas City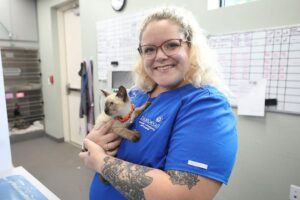 Our after-hours emergency pet hospital is located in Northland and serves North Kansas City, Gladstone, Liberty, Parkville and Smithville.
Emergency Medicine in Kansas City, Missouri 
Emergency: In an emergency, call us ahead and let us know you're coming. No appointment is necessary for our emergency vet. Learn more about your emergency visit at BluePearl. If you're looking for a veterinary specialist, talk to your family veterinarian about referring you to our team of specialists at BluePearl Overland Park.
Our emergency team sees a wide variety of medical problems ranging from minor infections to life-threatening trauma. Among the more common problems treated by our emergency doctors are vomiting/diarrhea, urethral obstruction, toxic ingestion/exposure, trauma, respiratory distress, snakebites, heatstroke and end-of-life care.
As with human emergency rooms, the most life-threatening cases are triaged first. Our veterinary team will evaluate patients when they arrive to collect vital signs prior to an examination by one of our emergency doctors.
There may be times when more stable patients may need to wait so critical patients can be stabilized. Please know that every patient is important to us. We will take all the necessary steps to ensure all patients receive the care they need.
About Our BluePearl Pet Hospital – Kansas City
Our after-hours pet hospital features an intensive care unit, five exam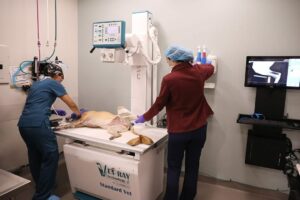 rooms and a surgical suite. We offer diagnostic imaging for your pets, including ultrasound and x-rays. We are one of three BluePearl pet hospitals in the Kansas City area and are conveniently located off Missouri Highway 152.
---