Our services.
We focus exclusively on emergency treatment and advanced specialty veterinary care. For annual vaccines and wellness care, please see your primary care veterinarian.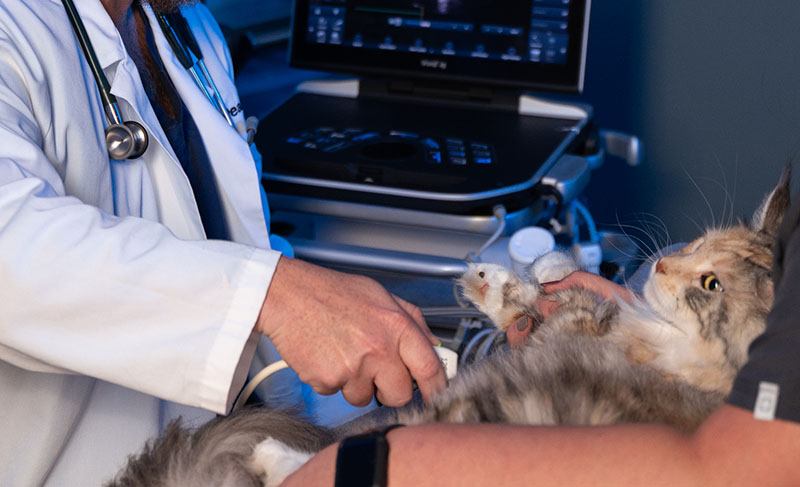 Emergency Medicine
If you believe your pet is sick, hurt or in distress, we're here to provide expert care. Our trained emergency clinicians are prepared to diagnose and treat urgent cases, including severely injured or critically ill pets.
Common emergency cases we see include:
Animal attacks
Bleeding
Collapse episodes
Difficulty breathing
Difficulty urinating
Hit-by-car accidents
Ingestion of medications, poisons or objects
Seizure
Severe diarrhea
Unresponsiveness
Vomiting
Through every step of your pet's emergency care experience, we keep you and your pet's primary veterinarian informed and involved.

Cardiology
Our veterinary cardiology team diagnoses and treats diseases of the heart by developing treatment plans for your pet's specific condition. Cardiology patients have a variety of treatment options, including minimally invasive procedures.
We work closely with your primary care veterinarian to diagnose and manage many types of heart disease such as:
Chronic degenerative valve disease
Dilated cardiomyopathy
Hypertrophic cardiomyopathy
Cardiac arrhythmias (abnormal heart rhythms such as Ventricular Premature Complexes (VPC), atrial fibrillation or complete heart block)
Congenital heart disease
Arrhythmogenic right ventricular cardiomyopathy (often referred to as "boxer dog cardiomyopathy")
Thyrotoxic heart disease
Hypertension and hypotension (high and low blood pressure)
Pulmonary hypertension
Your pet will receive a full physical exam followed by any necessary diagnostic tests, which may include:
Echocardiography (ultrasound of the heart and lungs)
Electrocardiography (evaluation of the cardiac rhythm; often referred to as an EKG)
Blood pressure measurement
Chest x-rays

Internal Medicine
Our internal medicine team use your pet's health history, lab results and imaging techniques (like x-ray, endoscopy and ultrasound) to diagnose and treat conditions such as:
Anemia and other blood disorders
Chronic sneezing, nasal discharge or coughing
Gastrointestinal problems (vomiting, diarrhea or weight loss)
Endocrine conditions
Immune-mediated diseases
Kidney disease
Pancreatic and liver disease
Suspected cancer
Services and procedures offered by our internal medicine service include:
Bone marrow aspirates and biopsies
Bronchoscopy/tracheoscopy
Colonoscopy
Endoscopic removal of gastric foreign bodies
Esophagoscopy
Feeding tube placement
Laryngoscopy
Gastroduodenoscopy (endoscopic assessment of stomach and early duodenum) with biopsies
Tracheal/bronchial wash (collection of airway fluid)
Ultrasound of the abdomen, chest and neck
Ultrasound-guided needle aspirates or biopsies

What to expect at your appointment.
A veterinary assistant will greet you, collect vitals on your pet and ask some routine health questions.
Our veterinary clinician will then perform a detailed physical examination, listen to your concerns, ask additional pertinent questions and discuss the next steps.
We pride ourselves in timely communication with your pet's primary doctor. Calls are made the same day to provide an update and paperwork is sent within 24 hours.
If diagnostics are sent to outside laboratories, we will call you with results as soon as they have been made available and interpreted by the clinician.
We have your pet's best interest at heart and may refer you to another hospital if we recommend a particular diagnostic modality or treatment but don't have the equipment for it.