Specialty vet services in Monterey, CA.
BluePearl Pet Hospital in Monterey is here when your pet needs specialty or 24-hour emergency care. Our compassionate clinicians are highly trained in their specific fields. We work closely with you and your pet's primary veterinarian to create a comprehensive care plan that's tailored to your pet's unique condition and quality of life. Specialties and services offered at our pet hospital include: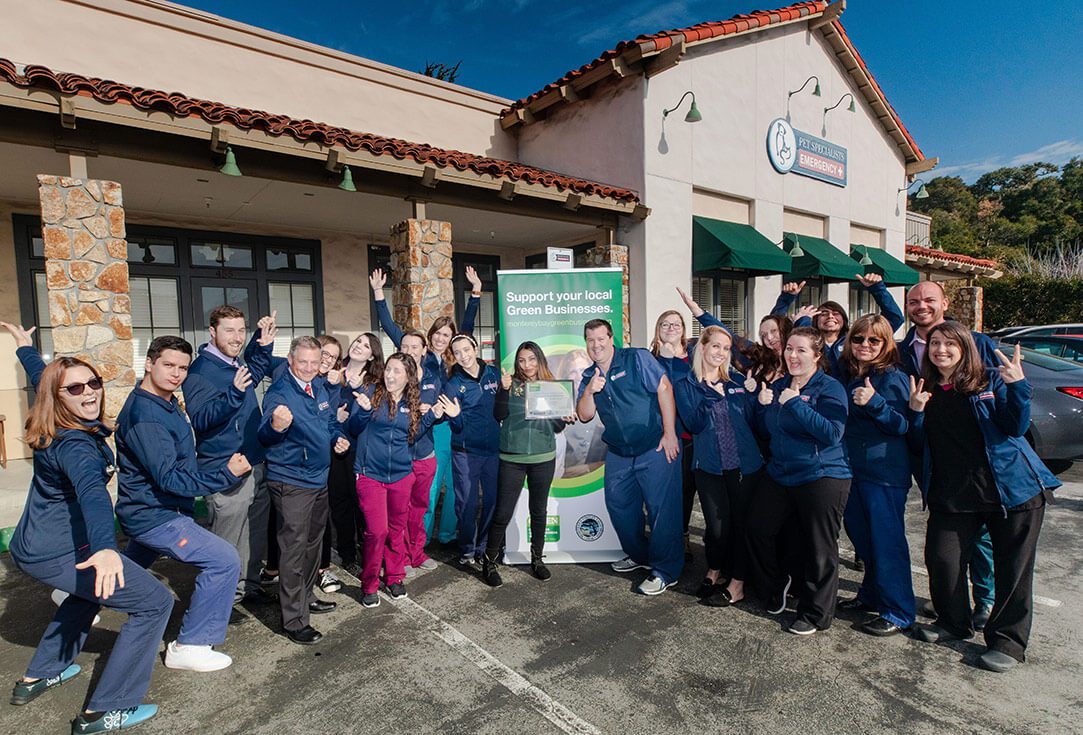 24/7 Emergency Medicine
Our emergency service is dedicated to maintaining the highest standards of patient care and client satisfaction. Here are common emergency conditions we diagnose and treat:
Blood in the feces or urine
Difficulty breathing
Inability to move or sudden weakness
Ingestion of a foreign object or unknown/toxic substance
Labor that does not progress or the inability to deliver puppies/kittens
Loss of consciousness
Seizures
Serious wound
Signs of extreme pain, such as whining or shaking
Signs of heatstroke
Insect or snake bite
Straining to urinate (especially a male cat)
Suspected broken limb
Swollen, hard abdomen that is painful to the touch
Vomiting blood

Cardiology
Led by a board-certified veterinary cardiologist, our cardiology team is here to diagnose and treat diseases of the heart and lungs. We use advanced imaging tools and techniques to identify your pet's specific condition and develop a treatment plan. We offer a variety of treatment options, including minimally invasive procedures, for our cardiology patients.
Your pet's primary veterinarian may refer you to our cardiology service for the following reasons:
Newly diagnosed heart murmur or recent increase in murmur grade (1-6)
Episodes of collapse or fainting
Irregular breathing or respiratory distress
Chronic coughing
High or low blood pressure
Diagnosed heart failure or heart disease
Irregular heart rhythm

Critical Care
Critical moments require critical care. As experts in medical crises, our critical care team promptly treats critically ill and injured pets with advanced medicine. Pets in our intensive care unit (ICU) receive professional care in a variety of ways to ensure their comfort, safety and well-being, including:
Pain management and pain relief
Blood transfusions
Advanced diagnostic imaging
Intravenous fluids
Oxygen delivery
Vital signs monitoring
Nutritional support
Using specialized equipment and technology, our team works quickly to diagnose the problem and identify a solution to deliver the best possible outcome for you and your pet.

Diagnostic Imaging
Our diagnostic imaging service is here to capture detailed images of your pet's body and pinpoint a precise diagnosis. We offer the following diagnostic imaging services at BluePearl Pet Hospital in Monterey:
Radiographs (x-rays) to see the size, shape and position of soft tissue structures, organs in the chest and abdomen and bone structures
Abdominal ultrasound to evaluate the tissue density and fluid content of tissues and organs in the abdomen
Computed Tomography (CT) to form a three-dimensional model

Internal Medicine
BluePearl Pet Hospital in Monterey provides advanced internal medicine diagnostics and care performed by our board-certified small animal internists and a team of highly-skilled staff. We are committed to providing you and your pet with comprehensive and compassionate care during diagnosis, treatment, and monitoring of medical conditions.
Your pet may be referred  to the internal medicine department at BluePearl Pet Hospital in Monterey for any of the following reasons:
Endocrine disease (adrenal tumors, complicated diabetes, thyroid disorders)
Liver and gallbladder inflammation or infection
Chronic vomiting or diarrhea or other digestive problems
Complicated pancreatic disease
Coughing and breathing problems
Infectious diseases
Anemia or other blood disorders
Kidney or bladder diseases
Unexplained weight loss

Surgery
BluePearl Pet Hospital in Monterey is home to board-certified veterinary surgeons who are experts in operating on ill and injured pets. Our surgical team uses the latest techniques and the highest quality equipment to provide the best care possible for their patients.
We offer the following types of surgeries:
Orthopedic surgeries such as cruciate ligament repair (TPLO), arthrodesis and joint replacement
Soft tissue surgeries, including tumor removal and correction of congenital defects
Neurological surgeries, like treatment of herniated disks and spinal injuries
Minimally invasive procedures, including arthroscopy, laparoscopy and thoracoscopy
General surgery, including fracture repair and exploratory surgery
Emergency surgery to provide life-saving care for pets with urgent surgical needs

Interventional Radiology
Interventional radiology (IR) is a specialized medical treatment that enables veterinarians to use a special camera to diagnose and potentially treat medical conditions from inside your pet. This advanced imaging technology provides specialists with in-depth visualization of your pet's body, so they can better diagnose conditions and create highly focused treatment plans.
Commonly performed interventional radiology procedures focus on the urinary tract, the respiratory tract and the cardiovascular system.