Solving Mystery Illnesses With Veterinary Medicine
Last January, the Beadlings woke up to what would later lead them to a life-changing discovery: Margarita's canine lymphoma.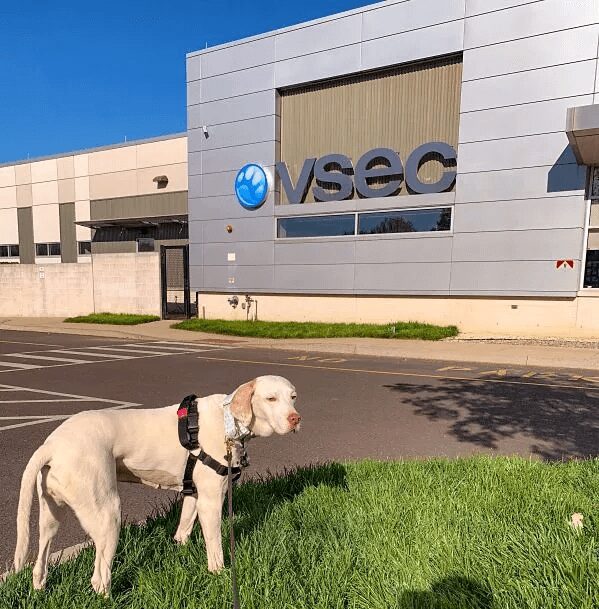 LEVITTOWN, Pa. – On the night of January 7, Jenny and Brian Beadling were suddenly woken up by their beloved English Pointer, Margarita (Rita). Rita was pacing anxiously around the bedroom, urinating uncontrollably, and refusing to eat. Worried by this unusual behavior, Jenny called their veterinarian the next morning and made an appointment for that evening.
Dr. Helen E. Campbell, veterinarian and owner of Old York Veterinary Hospital, examined Rita and ordered an ultrasound and bloodwork. Results showed that Rita had a 2.5 cm splenic mass and was anemic. Realizing that the symptoms may be caused by something more, Dr. Campbell referred Jenny and Brian to Veterinary Specialty and Emergency Center (VSEC) in Levittown, Pa.
After consulting with a radiologist and an internal medicine specialist at VSEC, Jenny and Brian met with VSEC veterinary surgeon, Dr. Jennifer MacLeod. Dr. MacLeod reviewed the case and recommended that Rita undergo exploratory surgery to remove her spleen, and have a biopsy of her liver and intestines.
"Unlike children, pets can't tell you where it hurts, or how they're feeling, so that makes our job as parents and the veterinarian's job very difficult," explained Jenny. "In Rita's case, we had to rely solely on observed behavior and diagnostic testing. Although Brian and I were worried about the procedures, we were hopeful that the results would bring us closer to a diagnosis."
Finding Answers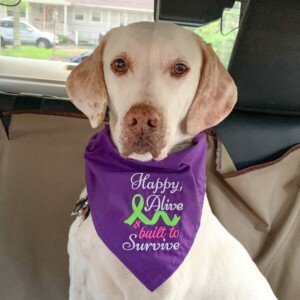 To Jenny and Brian's disappointment, malignant cells were found in Rita's spleen and on March 13, she was diagnosed with Diffuse Large B Cell Lymphoma. At this time, Rita was also diagnosed with chronic hepatitis and inflammatory bowel disease (IBD).
"Brian and I were in disbelief when we were informed of her diagnosis," Jenny noted. "But we knew that she was in really good hands. Not only did Rita's medical team take time to answer all of our questions, but with each response, we felt more confident, empowered, and mentally prepared to assist our fur-child in fighting the most difficult battle of her life."
To improve Rita's overall health and make her better equipped to handle cancer treatment, Dr. Campbell prescribed her steroids and put her on a specific diet aimed to treat canine IBD.
Taking the Next Step
Once Rita was ready to begin cancer treatment, the Beadling's were again referred to see a specialist at VSEC. This time it was oncologist, Dr. Rebecca Risbon. Dr. Risbon explained Rita's diagnoses of Stage IV/A Lymphoma and recommended chemotherapy.
"The duration of the treatment depended on the type of cancer, the extent of the disease, and how responsive Rita would be to the treatment," said Dr. Risbon. "Working closely with Jenny's veterinarian, we determined the best plan for Rita, which, in addition to the chemotherapy, included additional exams and tests such as blood work and ultrasounds to monitor her overall health and cancer status," Dr. Risbon explained.
"Any changes in Rita's eating, drinking, or elimination habits, signs of illness, or changes in behavior are relayed from Jenny to her veterinarian, and then onto myself. It's a necessary partnership that leads to better patient care and outcomes."
Rita's Road to Recovery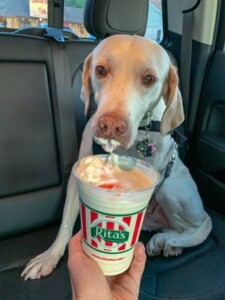 Today, Rita is on her final weeks of chemotherapy. As a reward after her weekly appointments, Jenny treats Rita to a "cheat day," which has included licks of a Rita's peanut butter milkshake, bites of a Taco Bell cheesy roll up, and nibbles of a Wendy's cheese burger.
By working collaboratively, Dr. Campbell and VSEC specialists got to the root of Rita's unusual symptoms, and developed a customized treatment plan that they hope will extend Rita and the Beadling's time together.
"Brian and I are grateful to have had such an amazing medical team to educate and guide us through this difficult process," Jenny expressed. "As Margarita approaches the home-stretch of her chemotherapy plan, we are hopeful that her future will not only bring us many more occasions to spoil our furry kid, but also open up opportunities for her as a registered Therapy Dog to comfort and inspire others experiencing similar challenges."