Compassionate care for every pet.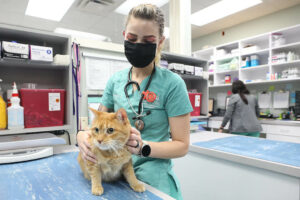 Your pet just went into a BluePearl ER and keeping calm with so many unknowns seems impossible. With our COVID-19 protocols in place, we understand that not being able to accompany them inside can feel distressing. We want to assure you that they are in our capable and caring hands, and we will communicate with you throughout your visit.
Below you will find insights into what it's like for your pet during triage, examination and treatment.

Triage.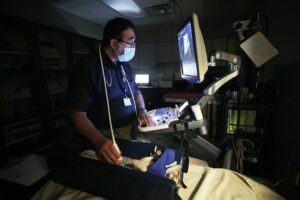 In an emergency, our hospital teams first perform triage, which is an evaluation of your pet's condition to determine if there is a need for immediate life-saving procedures. If this initial evaluation shows your pet is not in life-threatening condition, they may be returned to you to wait in accordance with COVID-19 protocols.
Examination & diagnostic testing.
We then examine your pet and perform diagnostic tests which can include the following:
Blood and/or urine samples
X-rays
Blood pressure
A fast scan using ultrasound
Our ER doctors will then create a treatment plan based on their examination and the outcome of diagnostic tests and will consult with you about next steps.
Our promise to deliver exceptional care.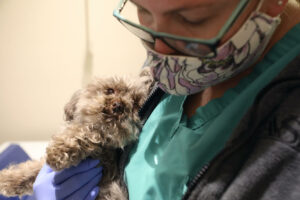 Each pet receives our undivided attention, access to the latest diagnostic equipment and treatment options on par with human medicine. If your pet's condition is complex, specialists from surgery, internal medicine or critical care (among other specialties) may become involved in your pet's case as we move forward with a treatment plan. Your pet's well-being is our foremost concern.
Payment options.
BluePearl requires payment at the time of service. We have several payment options including cash, check and credit cards. We also offer CareCredit, which is a credit card that can be used for veterinary expenses. We recommend that our clients consider pet insurance for future needs. Pet insurance assists in offsetting your pet's medical expenses and should be purchased prior to your visit. BluePearl accepts Trupanion. Other types of pet insurance require up-front payment. We provide you with the necessary documentation to be reimbursed.