Bing and his BluePearl vets.
My "baby" pitbull, Bing, sadly died of lymphoma in May of 2017.
She would have passed months before, if it wasn't for Dr. Kozicki, Kelly, and the BluePearl staff. I am so thankful that the experts here were able to extend her life so that everyone who knew Bing could share a few last memories with her.
After taking Bing to her regular vet, we were referred to BluePearl in Southfield, about 40 miles away. She had lost mobility in one of her rear legs and, after x-rays, our vet could not determine the issue. At BluePearl, we first saw the orthopedic vet, who determined it was neurological. We then saw the neurologist, who then referred us to the oncologist, Dr. Kozicki, after finding that there were issues with nerves due to an orange-sized tumor pressing against Bing's heart.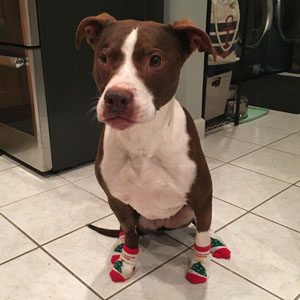 Treatment at BluePearl.
Dr. Kozicki and staff presented several options for treatment. After discussion, the course of action to extend Bing's life was decided. The team here was so amazing! Bing is a huge lover, but like her Dad (me), takes some time to warm up to people. This didn't stop Dr. Kozicki, Kelly, and the staff from befriending her. They were amazing with her! I cannot begin to explain how great they were in providing treatment for the cancer and making Bing feel at home.
After the first visit, Bing knew exactly where she was when we pulled into the parking lot. She knew she was going to get spoiled with attention from the BluePearl team. The team knew her as soon as she walked in. It wasn't just Bing though, they know all of their clients! Says a lot about the staff and the wonderful and caring job they do.
I could write a novel on how great the staff was.
In a trying time, they never failed to go above and beyond what was expected to make Bing and our family feel so comfortable. Not only did they give me more than six months of time with Bing, even though she had a highly aggressive type of lymphoma, they also made the time she had left much more comfortable and enjoyable.
I highly recommend using this facility for all of your pet's needs. As noted above, we saw three specialists in the same day. We were only referred to one, but when the doctors knew it wasn't in their specialty, they ensured that we got to the right person. We didn't need to make another appointment, they cared enough to make our visit and needs fit into their schedule.
Thank you Dr. Kozicki, thank you Kelly, and thank you BluePearl.
Anyone reading this – know you are in good hands with this staff!!
Will S.
Michigan