Emergency Pet Hospital in Peoria, AZ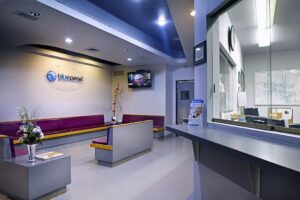 BluePearl Pet Hospital is open 24 hours a day, 7 days a week and 365 days a year to provide urgent medical care for pets in the Northwest Phoenix area, including the Peoria, Sun City, Youngtown, Surprise and Glendale communities.
24 Hour Pet Hospital Emergency Services
We're here when your pet's primary veterinarian's office is closed. Always staffed with trained clinicians, BluePearl Pet Hospital in Peoria is open 24 hours for pet emergencies. It's our goal to provide the compassionate, comprehensive medical care your pet deserves while maintaining close communication with you through every step of the process.
As experts in emergency medicine, our clinicians are prepared for any pet emergency that may walk through the door. Common emergencies we diagnose and treat include:
Vomiting and diarrhea
Trauma and hit-by-car accidents
Seizures
Toxicities
Sudden complications from a chronic disease
Bloat (gastric dilatation volvulus, or GDV)
Serving as the only 24 hour pet hospital in the greater Peoria community, our facility is equipped with advanced diagnostic technology and sophisticated tools to provide the highest quality of care. On-site services include:
X-ray imaging
Emergency surgery
Laboratory testing
Critical care and overnight hospitalization
In the event of an emergency, please call ahead and let us know you're coming. There is no appointment necessary for your emergency vet visit.