---
Seattle Veterinary Specialists – Serving Downtown Seattle
Our pet hospital, which is part of the family of BluePearl Specialty + Emergency Pet Hospitals, is located in Downtown Seattle. We serve the greater Seattle area, including Bainbridge Island, Ballard, Bellevue, Burien, Capitol Hill, Lake Union, Madison Park, and Pinehurst.
Specialty and Emergency Medicine in Downtown Seattle, WA
When you have a pet emergency, seconds count. We want you to know, we're ready. If your pet has a condition that requires a specialist's expertise, we're ready for that too. Our experienced veterinarians, vet technicians and support staff work closely together to provide the comprehensive, compassionate care your pet needs and deserves.
Emergency: In an emergency, call ahead to SVS and let us know you're coming. No appointment is necessary for our emergency vet. Learn more about your emergency visit.
Specialty Care: Our veterinary specialists work directly with your primary care vet to understand your pet's condition and develop the appropriate treatment plan. Visits to our specialists are usually by referral from your primary care vet and by appointment. Learn more about veterinary specialists. 
About Our Seattle Veterinary Specialists in Downtown Seattle
Seattle Veterinary Services was started in Kirkland more than a decade ago and expanded to a second hospital in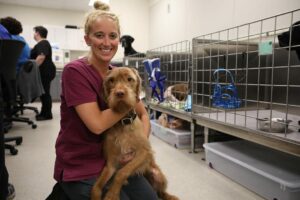 Downtown Seattle. Both hospitals joined BluePearl Specialty + Emergency Pet Hospital in 2015.
The Downtown hospital has state-of-the-art diagnostic equipment including a CT scanner, MRI, digital radiograph, fluoroscopy and ultrasound. An in-house pathology lab speeds up the turn-around on tests.
Visitors who come by car find free parking at the garage, which is off Eighth Street. The location is less than a mile from the Downtown ferry terminal serving Bainbridge and Bremerton Islands.