---
Seattle Veterinary Specialists – BluePearl – Serving the Kirkland and Redmond Communities 24/7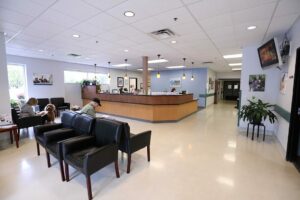 Our 24-hour pet hospital is located in Kirkland and also serves Bellevue, Bothell, Canyon Park, Kenmore, Lynnwood, Mill Creek, North Creek, Redmond and Woodinville.
Specialty and Emergency Medicine in Kirkland, WA
When you have a pet emergency, seconds count. We want you to know, we're ready. If your pet has a condition that requires a specialist's expertise, we're ready for that too. Our experienced veterinarians, vet technicians and support staff work closely together to provide the comprehensive, compassionate care your pet needs and deserves.
Emergency: In an emergency, call ahead and let us know you're coming. No appointment is necessary for our emergency vet. Learn more about your emergency visit.
Specialty Care: Our veterinary specialists work directly with your primary care vet to understand your pet's condition and develop the appropriate treatment plan. Visits to our specialists are usually by referral from your primary care vet and by appointment. Learn more about veterinary specialists.
About Our Seattle Veterinary Specialist Pet Hospital – Kirkland, WA
For a glimpse of how your pet might benefit from human-quality medicine, take a look at procedures offered in Kirkland by Seattle Veterinary Specialists – BluePearl.
A cardiologist implants pacemakers, a surgeon uses stem cell therapy, and an internal medicine
veterinarian offers tracheal stents. Those specialists, and many others, are also a resource for our 24-hour emergency vet practice at Kirkland, which has a dedicated intensive care unit.
Our 20,000 square-foot hospital has a CT scanner, MRI, digital radiography, ultrasonography, fluoroscopy and endoscopy, along with a new on-site commercial pathology lab.
The hospital is located in a business complex near Jasper's Dog Park. There is free on-site parking and easy access to I-405.