Coronavirus Update:
---
BluePearl Pet Hospital – serving Renton 24/7
Our 24 hour pet hospital is located in Renton and also serves Auburn, Burien, Covington, Des Moines, Federal Way, Fife, Issaquah, Kent, Maple Valley, Mercer Island, Newcastle, Normandy Park, Seahurst, South Seattle, Sumner, West Seattle and Tukwila.
Specialty and emergency medicine in Renton, WA
When you have a pet emergency, seconds count. We want you to know, we're ready. If your pet has a condition that requires a specialist's expertise, we're ready for that too. Our experienced veterinarians, vet technicians and support staff work closely together to provide the comprehensive, compassionate care your pet needs and deserves.
About Our BluePearl Pet Hospital – Renton
Near the major port city of Seattle, our BluePearl pet hospital in Renton is always ready to care for the hardworking pups of border protection.
At BluePearl Renton, the doors stay open day and night, 24 hours a day.
Diagnostic tools include digital radiograph, endoscopy and ultrasound. Among other special services, Renton offers a non-surgical means to break up bladder and kidney stones, using lasers to pulverize them. Our hospital can provide hemodialysis to pets requiring specialized kidney treatment and is equipped for laparoscopic and arthroscopic surgeries.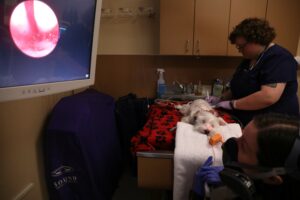 ACCES Renton
Formerly called Animal Critical Care and Emergency Services, or ACCES Renton, our pet hospital holds the highest level of certification awarded by the Veterinary Emergency & Critical Care Society.
Each month, we host a satellite clinic that allows pets to be seen by the Animal Dermatology Clinic of Pasadena, CA, which specializes in diagnosing and treating skin and ear diseases.
Client Review
The vet was straightforward and honest, but so kind – he walked us through the odds and what-if's, and helped us make incredibly tough decisions during a terrifying and heartbreaking experience.