---
Specialty and Emergency Pet Hospital in Tacoma
BluePearl Pet Hospital in Tacoma, WA offers 24-hour emergency vet services as well as specialty appointments available by referral. We proudly serve the greater Tacoma area, including communities of Lakewood, University Place, Hillhurst, Spanaway, Parkland and Midland.
24 Hour Emergency Services
We understand that a pet emergency can happen at any time. That's why we're open 24 hours to provide compassionate care for pets with urgent medical needs. Our experienced team of emergency clinicians, technicians and support staff are trained in all types of pet emergencies. Common conditions we treat include:
Accident or trauma (including hit-by-car)
Vomiting and diarrhea
Difficult breathing
Seizures
Complications from a chronic illness
Toxicities
We are always prepared to treat pets with emergency conditions. Our facility is equipped with advanced diagnostic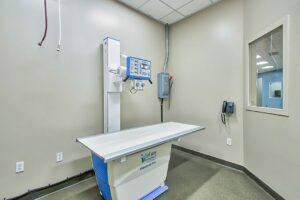 imaging technology and sophisticated treatment tools to provide top-quality emergency care.
Through every step of your pet's emergency care process, we keep you informed and answer any questions you may have. We respect the human-animal bond, and it's our mission to provide compassionate care that promotes your pet's quality of life.
In the event of an emergency, please call ahead and let us know you're coming. There is no appointment necessary for our emergency vet services.
Specialty Services
Available by referral from your pet's primary veterinarian, our specialty clinicians are the experts in treating complex conditions in pets. We work closely with you and your pet's primary veterinarian to understand your pet's specific condition and develop a comprehensive treatment plan. At BluePearl Pet Hospital in Tacoma, we offer the following specialty services:
Learn more about our specialty services or read our clinician bios.
About BluePearl Pet Hospital in Tacoma
Our brand new specialty and emergency hospital in Lakewood is one of five BluePearl hospitals in the greater Seattle area. As a leading veterinary facility in the Tacoma community, our hospital is equipped with advanced features, including:
Diagnostic technology including x-ray, MRI, CT scanner, endoscopy, arthroscopy and ultrasound
Intensive care unit (ICU) to care for our most critically ill patients
Dental suite to treat pets' complex oral conditions
With 16,000 square feet of hospital space, our new location includes 11 exam rooms, three surgery suites and nine specialty treatment rooms. We have a quiet room just for cats, an in-house pharmacy and isolation rooms to keep especially ill and contagious pets away from other patients.
BluePearl Pet Hospital in Tacoma, WA offers 24 hour emergency vet services as well as specialty appointments available by referral. We are proud to serve the Tacoma area including all communities in the greater South Sound.
---
Client Review
Thank you to Dr. Hicks for thinking outside the box, working with us to find affordable options for diagnosis and treatment, and for his empathy during our visit to BluePearl.