BluePearl Pet Hospital – serving North Seattle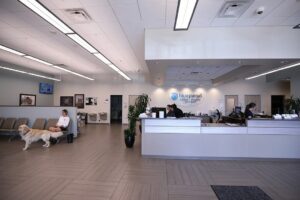 Our pet hospital is located in Seattle and serves Seattle, Silverdale, Poulsbo, Everett, Monroe, Lynnwood and Renton.
When you have a pet emergency, seconds count. We want you to know, we're ready. If your pet has a condition that requires a specialist's expertise, we're ready for that too. Our experienced veterinarians, vet technicians and support staff work closely together to provide the comprehensive, compassionate care your pet needs and deserves. 
Specialty Care: Our veterinary specialists work directly with your primary care vet to understand your pet's condition and develop the appropriate treatment plan. Visits to our specialists are usually by referral from your primary care vet and by appointment. Learn more about veterinary specialists. 
About Our BluePearl Pet Hospital – Seattle
Not all veterinary oncology programs can provide on-site radiation therapy, but our BluePearl North Seattle animal hospital has that capability. With its linear accelerator and expert oncology team, the hospital is equipped to go after your pet's cancer on multiple fronts.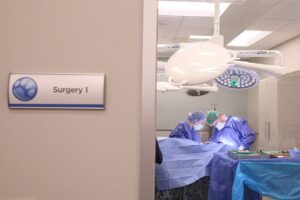 The pet emergency care at BluePearl North Seattle also sets itself apart from the crowd, having attained the highest level of certification awarded by the Veterinary Emergency & Critical Care Society.
One of five BluePearl hospitals in the Seattle area, North Seattle, originally known as Animal Critical Care and Emergency Services, or ACCES Seattle, in its previous location, moved to its current 20,000 square-foot facility in 2017.
Our hospital is home to state-of-the-art technology, including ventilator support, ECG and oxygenation monitoring, CT scans, ultrasounds and fluoroscopy.
The hospital is a short drive from Interstate 5.