Coronavirus Update:
Our hospital is still open and we are taking extra precautions to continue providing remarkable care for your pets during these unprecedented times.
If you're in need of emergency or specialty care for your pet, please download and review the COVID-19 safety protocols prior to your visit.
COVID-19 BluePearl North Seattle Emergency Visits
COVID-19 BluePearl North Seattle Specialty Visits
COVID-19 BluePearl North Seattle Inpatient Visits
---
BluePearl Pet Hospital – serving North Seattle 24/7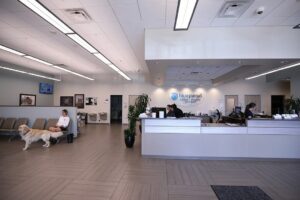 Our 24-hour pet hospital is located in Seattle and serves Seattle, Silverdale, Poulsbo, Everett, Monroe, Lynnwood and Renton.
When you have a pet emergency, seconds count. We want you to know, we're ready. If your pet has a condition that requires a specialist's expertise, we're ready for that too. Our experienced veterinarians, vet technicians and support staff work closely together to provide the comprehensive, compassionate care your pet needs and deserves. 
About Our BluePearl Pet Hospital - Seattle
Not all veterinary oncology programs can provide on-site radiation therapy, but our BluePearl North Seattle animal hospital has that capability. With its linear accelerator and expert oncology team, the hospital is equipped to go after your pet's cancer on multiple fronts.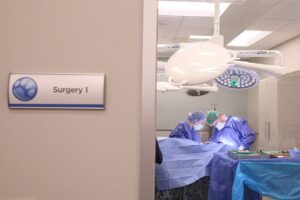 The 24-hour pet emergency care at BluePearl North Seattle also sets itself apart from the crowd, having attained the highest level of certification awarded by the Veterinary Emergency & Critical Care Society.
One of five BluePearl hospitals in the Seattle area, North Seattle, originally known as Animal Critical Care and Emergency Services, or ACCES Seattle, in its previous location, moved to its current 20,000 square-foot facility in 2017.
It is home to Washington's largest veterinary blood bank (see below) and offers state-of-the-art technology to include ventilator support, ECG and oxygenation monitoring, CT scans, ultrasounds and fluoroscopy.
Rehabilitation services are also available including an underwater treadmill and laser therapy among many other services.
The hospital is a short drive from Interstate 5.
The Blood Bank at North Seattle
Save another pet's life by donating your pet's blood. Learn about the benefits and eligibility requirements below.
Blood Donor Benefits
Physical exam by a licensed veterinarian
Complete annual blood screening (information shared with family veterinarian)
Active and retired donors are eligible for one free transfusion
Free toy with each donation
Plenty of treats and love at each donation
Eligibility Requirements for Blood Donors
Healthy and well-behaved
Current on vaccines
Between 1-6 years of age
Dogs at least 55 pounds
Cats at least 10 pounds
Never had a transfusion
Not used for breeding
Not taking any long-term medication (flea preventative is okay)
Indoor cats only
Please contact our North Seattle hospital at 206.364.1660 or email us with any questions.
Learn more about our BluePearl Blood Banks.
COVID-19 Precautions for BluePearl North Seattle Emergency
Please review our COVID-19 precautions for emergency services prior to your visit.
Download Form
COVID-19 Precautions for BluePearl North Seattle Specialty
Please review our COVID-19 precautions for specialty services prior to your visit.
Download Form
COVID-19 Precautions for BluePearl North Seattle Inpatient Visitors and Belongings
Please review our updated COVID-19 precautions for inpatient belongings and visitors.
Download Form